Blogs:
"3/29/2020"
I discovered that I'm missing a lot of scans. About half of chapter 2, all of chapter 3 and all of chapter 4 are missing. I'm going to rescan all of them now. Also, tomorrow a new skill is being released on an MMORPG I play, I plan on working on the comic on the side if possible, but either way, it could be quite awhile before more redone strips are uploaded.
"3/27/20"
I uploaded the first few strips in chapter 1 recolored, but the new strip design made more strips, messed up the numbering, and was overall a little difficult to get in order with the strips having different numbers of panels than before.
Therefore I've decided to put out a chapter at a time. Chapter 1 will be finished tonight or tomorrow and I'll finish replacing it then. Probably won't be any more updates/uploads after that until Chapter 2 is fully colored and ready to go; which with this quarantine, might not be very long! :D
"3/22/20 - Comic Rework"
Started working on re-making the first part of the comic today. I won't be re-drawing it from scratch, but instead I'll be coloring in and adding shading details to the panels that don't have that and also redesigning the strips from 6 panel to 3 panel strips. I'll be keeping the originals and may upload them elsewhere, but for now I'll be replacing old strips on here with the new ones.
I haven't yet decided if I'll upload what I've finished daily, or by chapter.
While this process is being completed, the strip numbers will be off! If I succeed in changing the old strips from 6 panels to 3 panels, it will virtually DOUBLE the amount of strips in the first portion of the comic. If strip 2 becomes Strip 2 & 3, the total number of strips rises and the numbering I have in their titles will therefore be too low further into the comic. I will fix numbering AFTER I've finished revamping old strips.
"Strip Creation Video 3/6/20"
https://www.youtube.com/watch?v=JLTLg_rYF2k
"3/3/20"
Chapter 11 is fully inked!!!
I'm currently working on Erasing and scanning the panels and this chapter has more panels than normal, so it will probably take a few weeks if not longer to color and upload them.
This will be the final full chapter (A short epilogue will follow the chapter)
"1/9/2020"
Chapter 10 is finished and uploaded.
I start training for a job on Jan 20th, so my time to work on the comic will be limited and may take quite some time to get the final chapter done.
I may consider doing what I've done in the past and just finish/upload a couple strips at a time.
"1/4/2020"
The second half of Chapter 10 should be finished within a few days. Entire chapter is completely inked, but I got bored of scanning, which is why I went ahead and phototshopped & uploaded the first half.
Day or 2 to get scanned, couple days to photoshop, then it will be ready!!
"1/1/2020 12:20AM"
Chapter 10 Part 1 Coming Soon!!!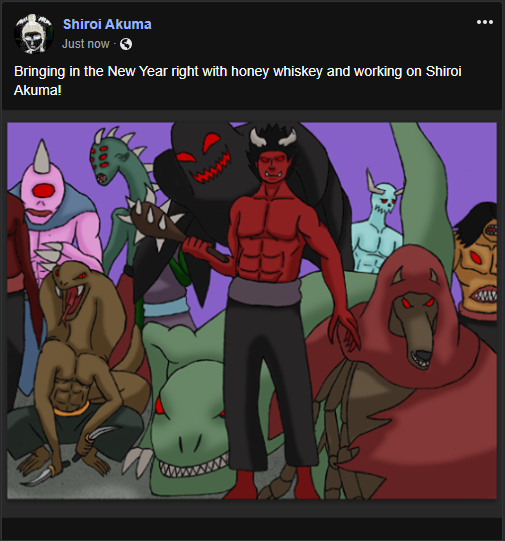 Pages: