Blogs:
"1/9/2020"
Chapter 10 is finished and uploaded.
I start training for a job on Jan 20th, so my time to work on the comic will be limited and may take quite some time to get the final chapter done.
I may consider doing what I've done in the past and just finish/upload a couple strips at a time.
"1/4/2020"
The second half of Chapter 10 should be finished within a few days. Entire chapter is completely inked, but I got bored of scanning, which is why I went ahead and phototshopped & uploaded the first half.
Day or 2 to get scanned, couple days to photoshop, then it will be ready!!
"1/1/2020 12:20AM"
Chapter 10 Part 1 Coming Soon!!!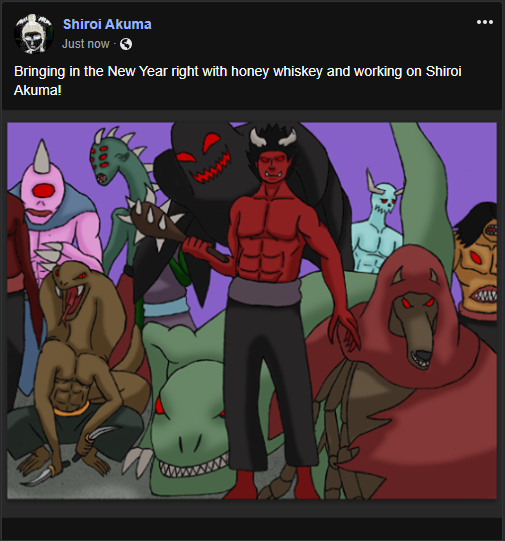 "7-3-19"
New strips coming soon!
I've finished inking chapter 9 and just need to scan all the panels, color them in photoshop and upload!
So keep your eyes out :D
"5/2/19 - Hiatus "
I've gone quite a long time without posting any comics so I thought I'd just give an update for anyone who might be enjoying this.
I've been re-watching the last 7 seasons of Game of Thrones, taking care of my grandfather and school has really picked up this semester with finals over the next couple of weeks. It's also starting to warm up and I do odd-jobs around town during the summer. Online games I play have been having a lot of big updates this year as well, and next month Elder Scrolls Online is releasing the Elsweyr expansion.
I really hate to disappear so close to finishing this, and I DO plan on finishing it, most nights when I lay in bed trying to sleep, I think about different scenes I can make for the coming battles; it's all still high on my priority list, just not as high as some other things and might be another couple of months before I manage to get anything drawn up.
"12/28/18 - Upcoming Chapter + Next Arc"
The current chapter is almost fully inked; I was hoping to get it finished this year, but it looks like it will be after the new year before I get it posted.. It's been kind of hard to work on; it was originally 2 chapters but it felt so much like filler that I kept cutting it down until it was just the bare minimum to get through this part of the arc, not only does it feel like filler to read, it feels like filler to work on - So it's been slow work.

Also, I've become very disappointed in my work here. I stated from the start that I'm not an artist, this isn't about the art, however, it's gotten a little too sloppy and detail-less. For the final arc I plan to spend much more time on each panel and add in the detail that was lost at the end of the first Arc plus more. As I plan to spend possibly weeks on a single strip, I will also be publishing the final arc strip by strip instead of completing large quanities at once.

I'm going to finish this out first, but after I do, I think I would like to go back and re-create the first 2 arcs in the style I plan to do the final arc.
I wish you all a belated Merry Christmas & An early Happy New Year!

-Grimm
"10/01/18"
As previously stated, I've had more time to work on Shiroi Akuma now that it's fall!!
Instead of drawing a little, posting a little, repeat. I've decided to once again finish an entire chapter at one time. I'm nearly finished penciling the final chapter of the Akuma Arc. However, I still have to go over the entire chapter with ink, scan it all, edit in photoshop and combine the pictures into strips; so it WILL still be some time before there's new strips.
"7-11-18"
During the summer months I often take on odd-jobs, so it's been awhile since I was able to work on the comic. I'm going to try to make some strips this week, but worst case scenario, I'll be back in the fall :)
Pages: